3 New Aleyant Pressero Features Now Live – Deleting Orders; Approval, Save For Later & Open Cart Reminder Emails
Hot off the press! Check out these new Pressero features that are available now.
DELETING ORDERS
This allows subscribers to remove orders from the system. When an order is deleted, it will not show on the storefront, its inventory usage will be removed and its budget usage will be removed. The order will still show in the Pressero orders list with minimal information. To show all deleted orders check the "Include Deleted" checkbox.
The refresh button will need to be clicked after checking "Include Deleted" for any deleted orders to show.
Deleted orders will be shown in red text with a line through.
Once orders are deleted, they can no longer be edited or un-deleted.
But, you can view the deleted order by clicking the eye icon.
Within deleted orders you can view the following:
Details about the order
Status changes that happened with the order
Vendor assignment
Files associated with the order
Reports associated with the order
How to delete an order
Begin by editing an order. (edit button) Then go to the Edit Order tab. Here you will see a Delete Order button. When clicked a modal will show and a two step confirm is necessary.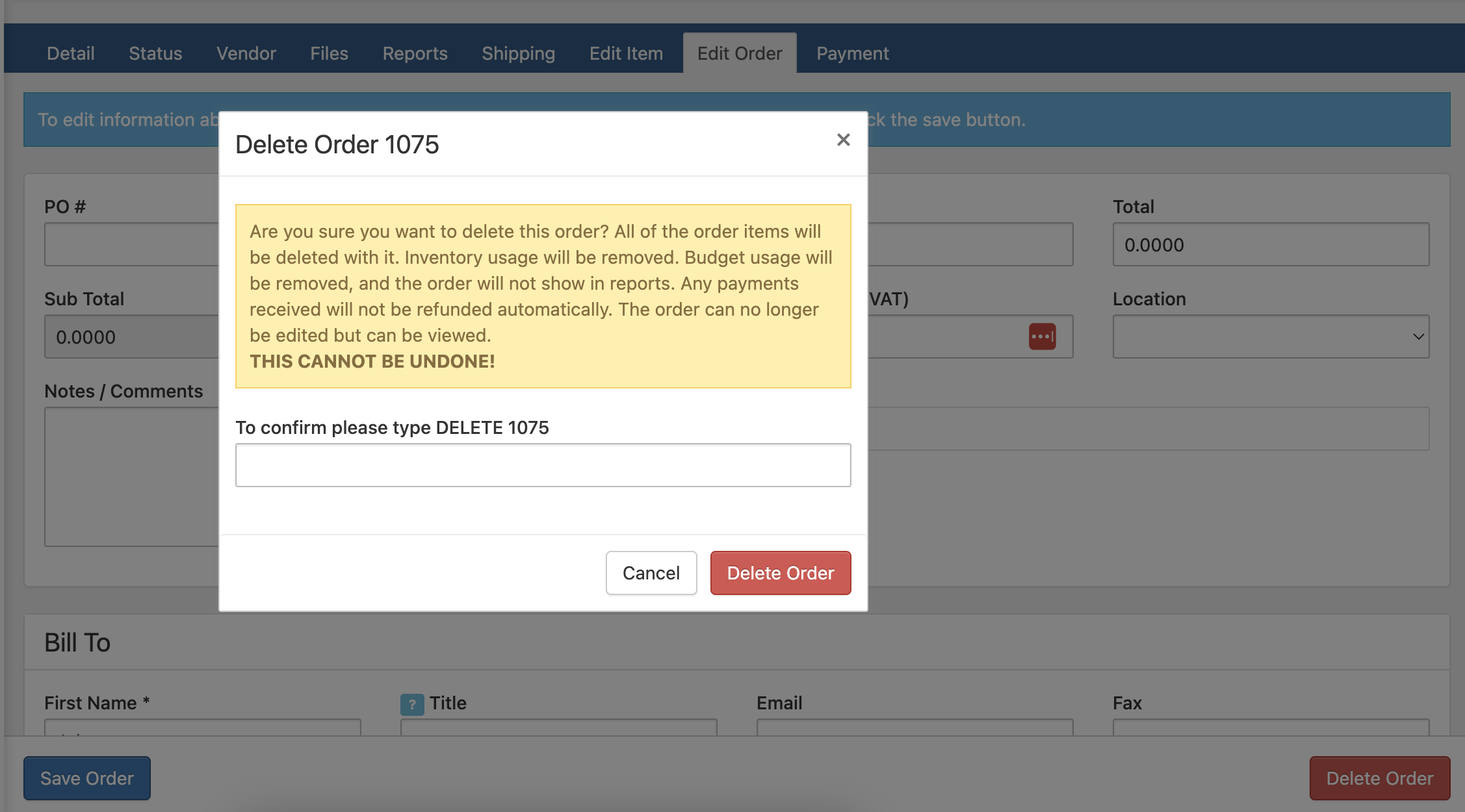 Important! All of the order items will be deleted with it. Inventory usage will be removed. Budget usage will be removed, and the order will not show in reports. Any payments received will not be refunded automatically. The order can no longer be edited but can be viewed. THIS CANNOT BE UNDONE!
For more information regarding this feature, please
view here
APPROVAL REMINDER EMAILS
Approval reminder emails are a great way to send out automated messages to approvers to remind them that they have an order to approve.
How to enable Approval Reminder Emails
Go to any B2B site
Go to Settings
Open the Email Notifications tab
Check the box Orders Pending Approval Reminder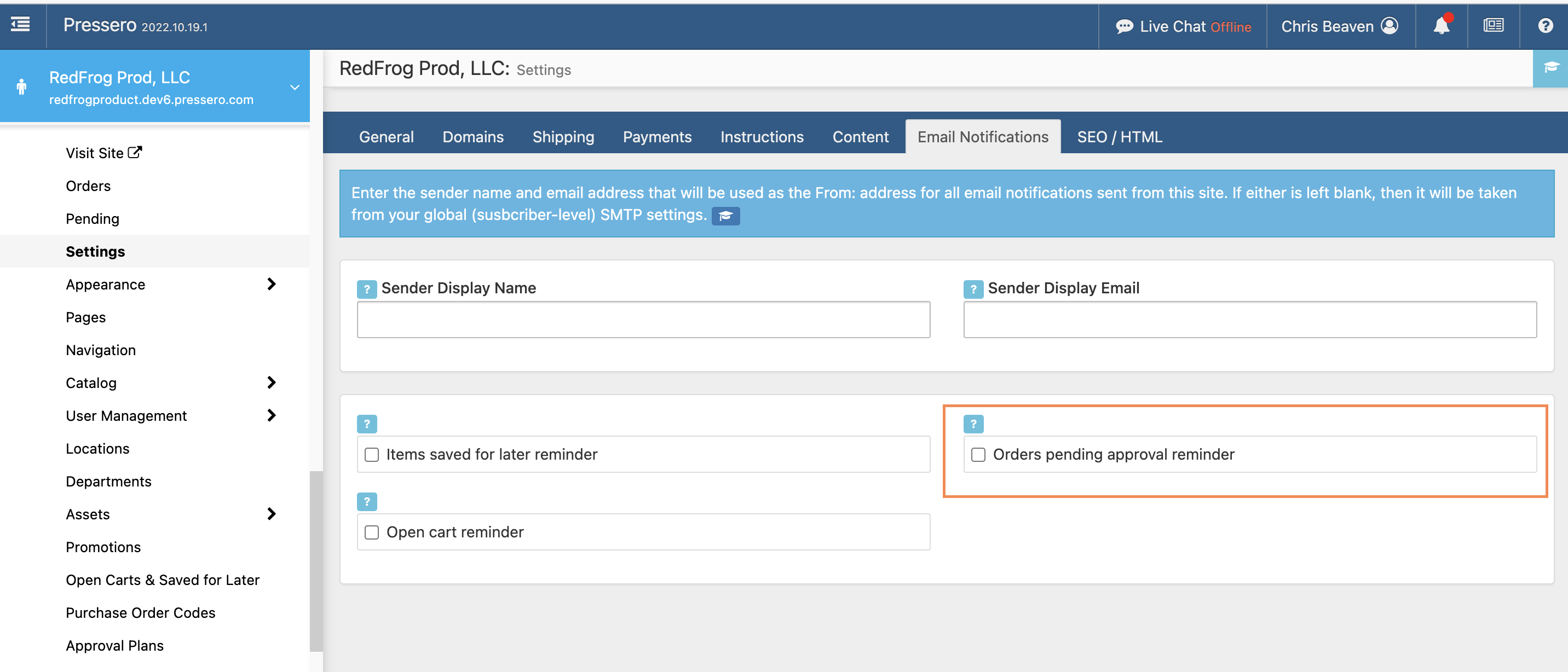 That's it! The approval reminder emails are activated!
Approval Reminder Email Details
Reminder emails will go out every 24 hours.
Reminder emails will start after 2 days if the order is not already approved.
Emails will stop after all order items are approved or denied, or after 14 days. Whichever comes first.
The reminder email will be sent out if any items in the order needs approval. If 5 are approved yet 1 are not, the email will be sent.
The approval reminder email uses the Approve Order Request template. No need to update or create a new template.
One email reminder will be sent out to all approvers just like how the Approve Order Request is sent.
For more information regarding this feature, please
view here
.
SAVE FOR LATER & OPEN CART REMINDER EMAILS
Saved for Later and Open Cart reminder emails are very similar. They both are sent out for two different scenarios but their functionality and manipulation exists in the same place in Pressero.
With this functionality, you can send your customers reminders that they have items Saved for Later or if they have items waiting in their cart. This will help in generating sales.
How to Enable Saved for Later and Open Cart Reminder Emails
Go into the settings of any Pressero site
Open the Email Notifications tab
Check the box "Open cart reminder" to enable Open Cart Reminder emails
Check the box "Items saved for later reminder" to enable Saved For Later reminder emails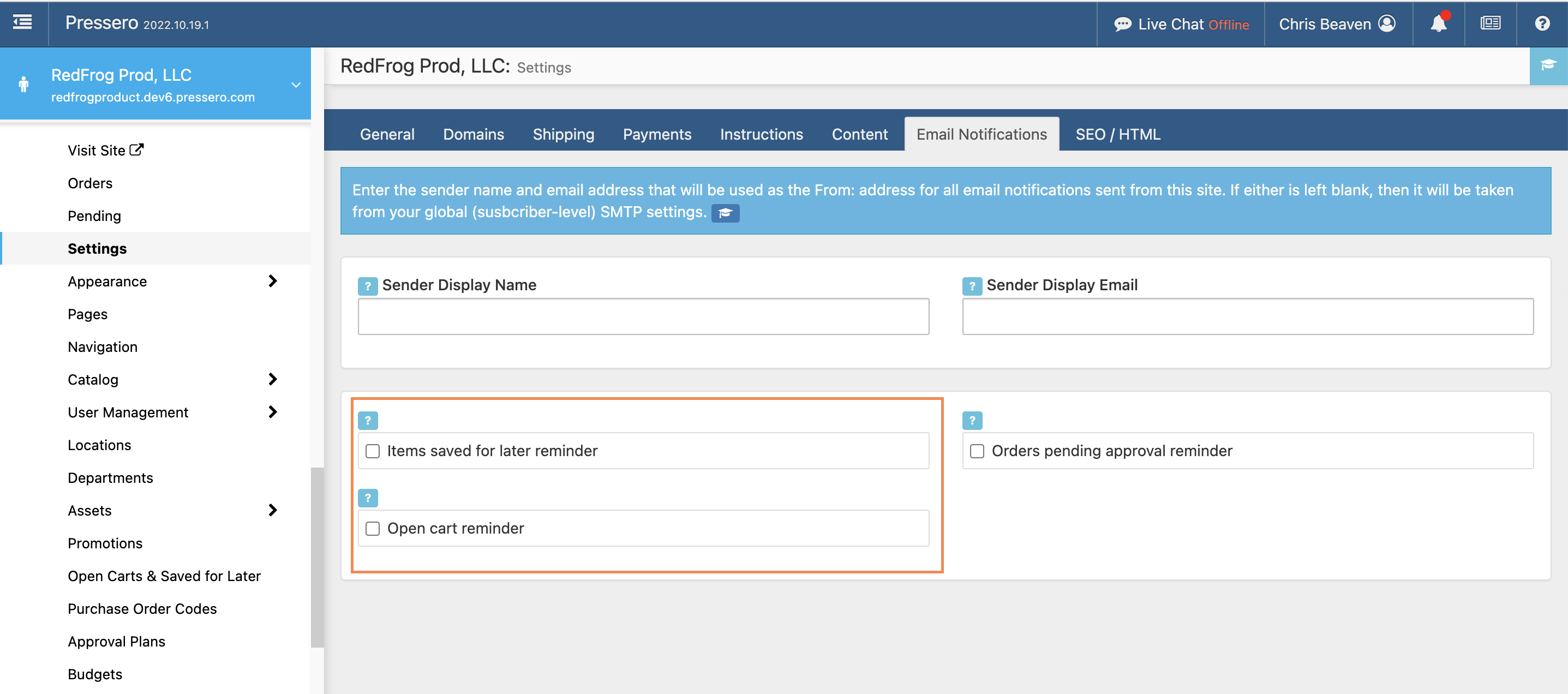 How to customize the reminder emails
Go to any Pressero site
Click on "Email Notifications"
You will see the Saved for Later Reminder and Open Cart Reminder templates listed
Click the eye icon to view either template
Click the "Customize This Message" button to customize the template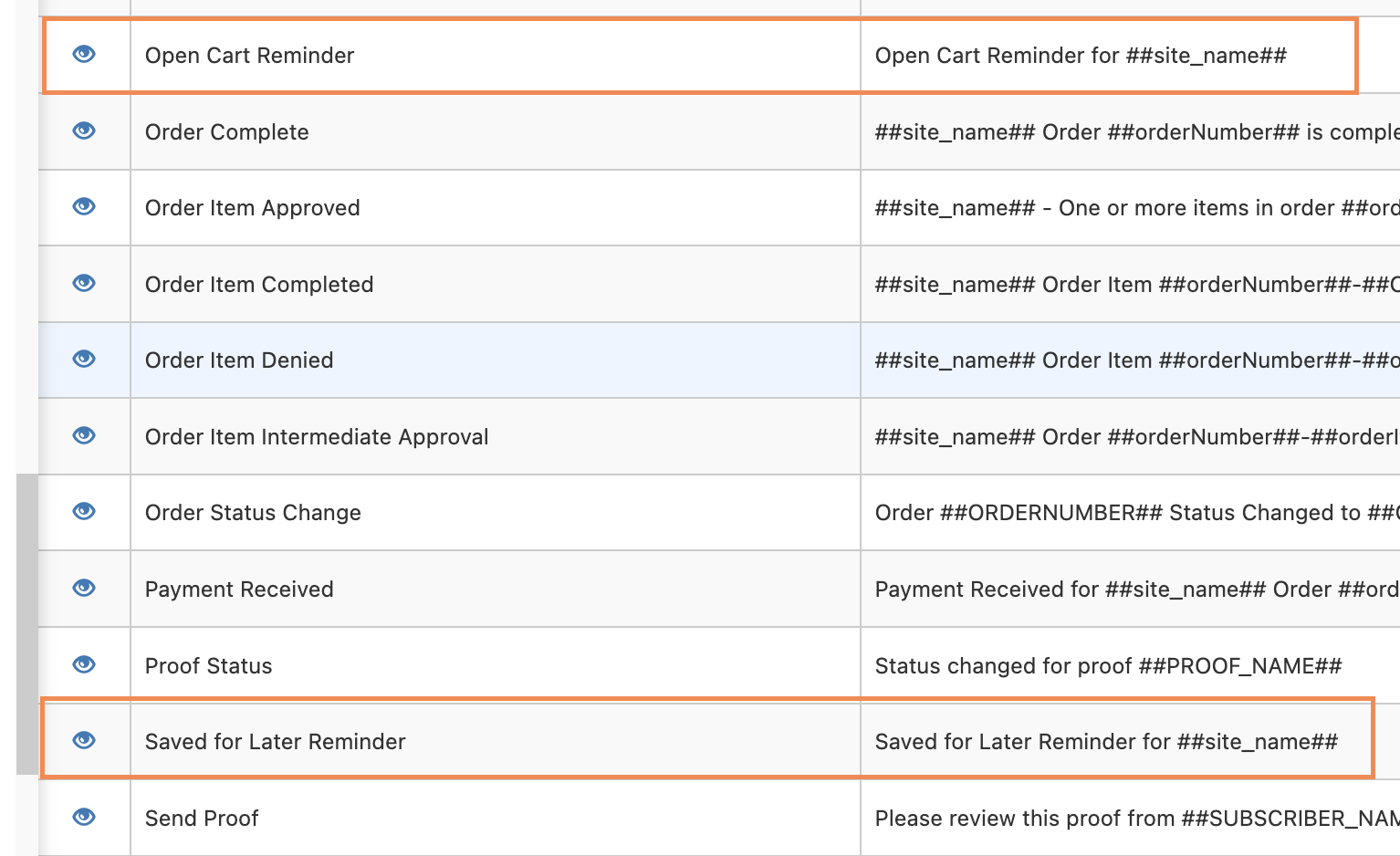 Save for Later and Open Cart Reminder Email Details
Both email types are sent out every other day.
If a saved for later or cart item sits for more than 7 days, the email reminders begin.
The Save for Later and Open Cart reminder templates within the email notifications area will be used for these emails.
If the storefront user does not have an email in their profile we do not send out notifications. This will happen with guest users.
For more information regarding this feature, please
view here
.