Web to Print Interactive Designer Templates: Element Manipulation
A web to print design online template is composed of text and image elements. The simplicity of an Aleyant eDocBuilder™ Interactive Designer template makes it easy for a print buyer to change, customize, and personalize these elements on a print item. The user's cursor indicates what action is available as they hover over an element on the template.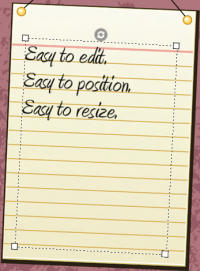 Resize, Move, Rotate Text Areas and Images
Resize: Simply drag a corner to resize a text or image area on the design template. Easy.
Move: A text or image element can be moved by your customer to any place on the design template with a simple click and drag. It works just like any desktop program!
Rotate: Text and image rotation are equally easy. Just click and drag a handle to rotate the element to any full or fractional degree, or click a button to rotate the image in 90-degree increments. This extremely powerful rotation capability is simple, easy and unmatched in form and function in web to print design software!