Web to Print Interactive Designer Templates: Text Tools
With Aleyant eDocBuilder™ Interactive Designer Templates, a variety of text tools enable your customers to manipulate and edit text in your web-to-print online design templates while seeing an instant proof!
Format Text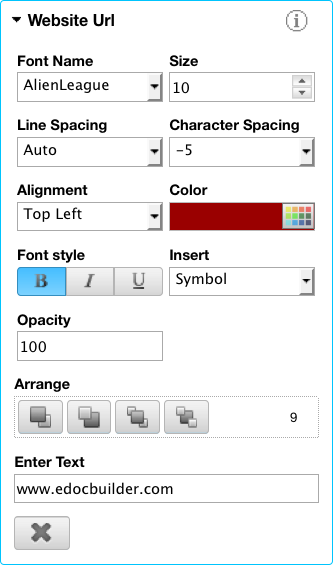 Font – Select from fonts list.
Font Size – Select 1 to 999 pts
Leading – Vertical line space
Tracking – Horizontal spacing
Alignment – Top, Left, Center, etc.
Font Color – Pick a color
Font Styles – Bold, Italic, etc.
Symbols – Add symbols to text
Opacity – Adjust text transparency
Layering – Stack font layers
Content – Edit text content
Pick Text & Phrases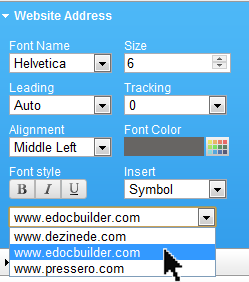 Give your customer a drop-down menu to choose a preloaded message, address, or some other text from a pre-defined list. The text is automatically loaded and displayed in the Interactive Designer template.
Rotate Text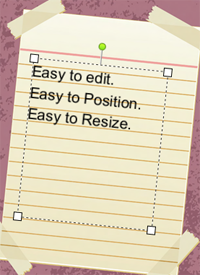 Text rotation is easy in Interactive Designer templates. Just click and drag a green handle to rotate the element to any full or fractional degree. This extremely powerful rotation capability is simple, easy and unmatched in form and function!
Move Text

Text can be moved by your customer to any place on the design template just like any desktop program with a simple
Click
Drag
Drop
Interactive Designer templates give your customer powerful text tools that are easy to use.
Unlimited Font Support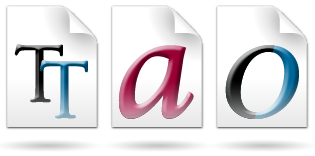 Many standard fonts are available by default, but the Interactive Designer doesn't limit you to just those. You can add your own TrueType, Type 1 and Open Type fonts for use in the template by your customer.